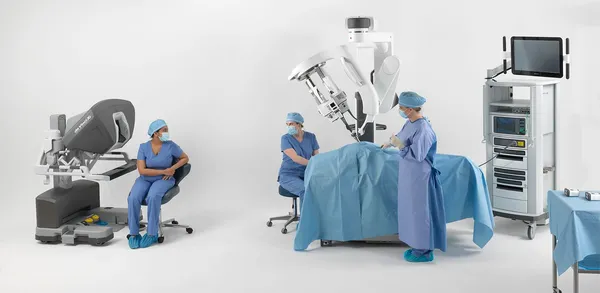 Transoral Robotic Surgery (TORS)
Transoral Robotic Surgery is a minimally invasive procedure use to remove throat tumors that originate in the tonsil or base of tongue. The Da Vinci robot has arms that "reach around the corner" to work in areas that are difficult to reach with traditional instrumentation. It also has a high definition, 3D view, to attain increased precision with each cut made for tumor excision.
Prior to the advent of the robot, base of tongue and tonsil tumor excision involved splitting the jaw bone and making a large facial and neck incision with a prolonged recovery and hospitalization.
Advantages
1. Increased precision of surgery
2. Shorter hospitalization
3. Reduced blood loss
4. More likely return to normal speech and swallow function
5. Possibility of reduced post operative chemotherapy and/or radiation therapy
TORS Candidate
While each tumor and patient is treated individually, most commonly TORS is used for T1 or T2 tonsil or base of tongue cancer. TORS can also be used for some larynx and pharynx tumors.
Rest assured that every cancer patient is presented at a multi-disciplinary tumor board to review pathology and imaging to determine the best treatment recommendations prior to the initiation of treatment.
In order to remove all cancer in the head and neck, it is usually done in combination with a lymph node removal.
Post operative Treatment
While some patients do not require any additional therapy after surgery, most patients will require either radiation therapy alone or in some instances chemotherapy paired with radiation therapy.
The determine is made by a multi-disciplinary tumor board and is based on the specific characteristics of your tumor.
To maximize our understanding of the tumor, most commonly the at risk neck lymph nodes are removed the same time as TORS.
Dr. Thakkar is certified to use the Da Vinci robotic system after completing a head and neck oncology fellowship. Treating a head and neck malignancy using TORS is best completed by a Head and Neck Oncology trained surgeon that treats a high volume of cancers.
Transoral Robotic Surgery (TORS)